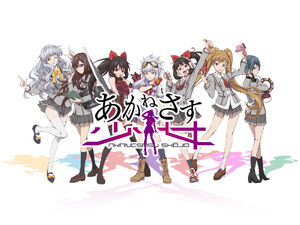 The Girl in Twilight (あかねさす少女, Akanesasu Shōjo) is a Japanese smartphone game app developed by DMM GAMES as part of the anime project. It was launched for iOS/PC/Android on October 15, 2018.
Story
[
]
Unlike the anime, the game's story begins in another world featuring the protagonist, a mysterious girl named Nagi. She travels between other worlds until she reached the prime world and encounters Asuka and co. Soon, the Crystal Radio Club journeys under Nagi's guidance to find a certain possibility.
Reception
[
]
Upon the game's release, the game has reached over 300,000 pre-registered users. As a celebration, players will be getting an impressive log-in bonus set of in-game items and currency.[1]
References
[
]
External Links
[
]